CUSTOM POINTS
STUNNING fabrics, selected by Robin Petix, are handmade in the USA to create these BEAUTIFUL Five Buttonhole Points are backed in a black silk moire fabric come in a clear plastic zippered pouch with a tassel and will accomodate any brand of shadbelly.
All prices include shipping!
See our SIZE CHARTS page to select the correct size for your shadbelly!

| | |
| --- | --- |
| | "BANGKOK" Beautiful pale Pink with Gold Metallic accents make up this Asian Treasure brocade $58.95 |
"GLENMONT": blue black and silver geometric pattern. Goes nicely with blue or black shadbelly $58.95
LONDON: classic tan burberry pattern $48.95
DUBAI :stunning gold $58.95
PARIS:classic pink burberry pattern $48.95
SINGAPORE: beautiful blue, green and gold Asian Treasures $58.95
CARNIVAL: splashes of iridescent colors in geometric pattern $58.95
PEACOCK: Asian Treasure in bright turquoise....much nicer in person than photo depicts! $58.95
"CURTAIN CALL" deep blue and black geometric pattern create a subtle counter point to Navy or Black shadbellies! $68.95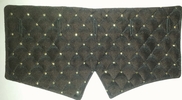 "ENCORE": dark brown with gold dots are subtle but stunning $68.95
"HARRIS": a beautiful gray & black tweed herringbone with metallic gold flecks
$48.95 SORRY, NOT AVAILABLE IN "LARGE"
"BALLET" beautiful black and white plaid with a metallic ebony accent thread $48.95
"PARK AVENUE" gorgeous textured fabric featuring several lavenders and a metallic silver thread $48.95
"DYNASTY" gorgeous black, red and metallic gold combine in an exquisite brocade fabric $68.95
"LEXINGTON" pale gold textured fabric is classic but subtly different $58.95
"MOULIN ROUGE" black animal stripes against a scarlet background....eye-catching!! $68.95
"TAIWAN" Emerald greens with a metallic gold accent give this brocade a sophisticated look $58.95
"CIRCUS" multi-hued pink circles on a black background...only available in Ladies Small....equivalent to CHILDRENS LARGE! $48.95
"SPOTLIGHT" striking white polka dots against a black corduroy background....FUN for ANY AGE! $48.95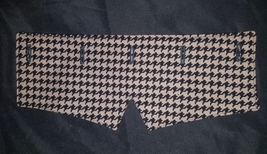 "WALDEN" a classic houndstooth in tan and black on corduroy $48.95
"CABANA" A happy combination of Royal Blue and Black striping AVAILABLE ONLY IN LADIES XL $48.95
"BOSTON" a white, burgundy, black & golden tan "Burberry-esque" plaid $48.95
"X MARKS THE SPOT" a gray & pink argyle design overlaid on black and white houndstooth $48.95
"KIMBERLY" black, purple, lavender & gray diamond pattern $48.95
"TIMES SQUARE" red & magenta broken vertical lines against a black background $48.95
"BLUEBERRY STROLL" blues design against black background $48.95
"
RASPBERRY STROLL" shades of raspberry, violet, reddish purples & black $48.95