CUSTOM POINTS....for Children!!
Sized JUST for Children's RJ Classics shadbellies, they may also fit other sizes/brands.
Please check the width & button hole spacing for Childrens POINTS on our SIZE CHARTS page!
(Select from Small, Medium OR Large Childs)
BEAUTIFUL fabrics, selected by Robin Petix, are handmade in the USA to create these BEAUTIFUL Five Buttonhole Points are backed in a black silk moire fabric come in a clear plastic zippered pouch with a tassel and will accomodate any brand of shadbelly.
All prices include shipping!
See our SIZE CHARTS page to select the correct size for your CHILDS shadbelly!

| | |
| --- | --- |
| | "Childs BANGKOK" Beautiful pale Pink with Gold Metallic accents make up this Asian Treasure brocade $43.95 |
Childs LONDON: classic tan burberry pattern $43.95
Childs DUBAI :stunning gold $43.95
PARIS:classic pink burberry pattern $48.95
Childs SINGAPORE: beautiful blue, green and gold Asian Treasures $43.95
Childs PEACOCK: Asian Treasure in bright turquoise....much nicer in person than photo depicts! $43.95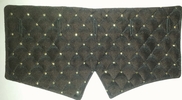 "Childs ENCORE": dark brown with gold dots are subtle but stunning $43.95
"Childs PARK AVENUE" gorgeous textured fabric featuring several lavenders and a metallic silver thread $43.95
"Childs TAIWAN" Emerald greens with a metallic gold accent give this brocade a sophisticated look $43.95
"Childs CIRCUS" multi-hued pink circles on a black background $43.95
"Childs SPOTLIGHT" striking white polka dots against a black corduroy background....FUN for ANY AGE! $43.95
"Childs X MARKS THE SPOT" a gray & pink argyle design overlaid on black and white houndstooth $43.95
"Childs KIMBERLY" black, purple, lavender & gray diamond pattern $43.95
"Childs TIMES SQUARE" red & magenta broken vertical lines against a black background $43.95
"Childs BLUEBERRY STROLL" blues design against black background on corduroy fabric $43.95
"
Childs RASPBERRY STROLL" shades of raspberry, violet, reddish purples & black on corduroy fabric $43.95